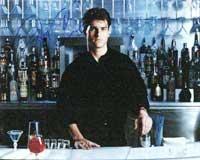 It figures that my house doesn't sell for four months, and so when I'm ready to renew my lease with the landlord, it sells. Usually, this wouldn't be a problem, but this weekend I'll be in Phoenix visiting an ex-roommate, and then next weekend I'll be in St. Louis for a wedding and seeing mommy dearest. I'll get home on the 7th, we then move out on the 10th, and have to be out by the 12th. Add that this week and the next are production weeks at work, and of course the World Series (Go Cards!), and you have a recipe for hijinx and hilarity! That's also why I've been a bit silent lately, here and on your pages. My apologies.

But yeah, Phoenix tomorrow. I have to leave early so I miss as little of Game 5 as possible. In case you didn't know, this is the Cardinals' year. After they win tonight, they'll finish it off in front of the home crowd Friday night. At least that's what I've been dreaming. But back to Phoenix. Two Hallowwen parties there, too. Guess what I'm going as? I'm tying a chicken around my neck and dressing all in blue. Drum roll...I'm a chicken cord-on-blue. Oh, stop moaning, I know you like it.

And then I return to the city that birthed me on the 3rd. Two friends, Jessica Williams and Phil Palacios, are tying the knot, and I'll be there for all the drunken festivities. Sadly, there will be no return to CoMo as I'll be spending Sunday and Monday with the mom unit, but I wish I could make it down. Drink one for me, will ya? And if you know either of the two soon-to-be-newlyweds (and I know some of you do), send them your congratulations.

But now, I have to pack, make some CDs (an old school driving mix for starters), eat dinner, and watch the Cards take Game 4. I'll fill you in on all the saucy details when I get back from Phoenix; should be a kraZy time. Have a great weekend, everyone.